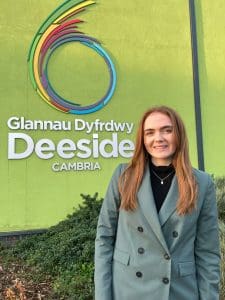 On Thursday 3rd February, one of our future trainee solicitors Laura Keane, took a trip down to Deeside, in Flintshire, Wales, to visit Deeside Sixth at Coleg Cambria and gave a talk to current A Level Law students.
As one of the largest colleges in the UK, Coleg Cambria has approximately 6,000 full time students and 20,000 part-time students. They offer a wide range of courses, and work in partnership with over 1,000 employers nationwide to provide their students with apprenticeship opportunities.
Throughout her talk, Laura introduced In-House Legal Solutions to the students, by telling them who we are and what we do, as well as the opportunities provided by the company for those looking to break into the legal profession. The students were able to gain an insight into the unique style of the business and why we are an appealing organisation to work for.
Laura discussed her journey from growing up in a working-class family and attending a state school, with no connections to the legal profession, to making it as a future trainee solicitor with In-House Legal Solutions. Laura studied English Literature, Politics and Sociology at A Level, and believed that Law was a good mix of these three subjects, so decided to study Law with Criminology at University of Liverpool. She graduated with a 1st class degree in 2018 and achieved a Distinction in her Legal Practice Course at BPP Law School in London. This led to her eventually starting as a Paralegal with In-House Legal Solutions in May 2021.
During her talk, Laura covered the different areas of law that are available for students to get into, from corporate and commercial to property and immigration. She then laid out the routes that the students could take if they wish to become a solicitor or barrister, identifying the experience, qualifications and training required. She finished up the talk with a few top tips on how the students could make their journey into the law slightly easier, whether it be to start networking or conduct some research into the area of law they might find most interesting.
Given Laura's background, with no connections in the legal profession, this was a great opportunity for her to visit a college where students may be able to relate to her and give them the confidence to go and achieve their dreams of qualifying as a solicitor or barrister. The students had very positive feedback for Laura and found her talk valuable for them moving forward, demonstrating that these initiatives are beneficial for supporting social mobility and promoting opportunities for students to get into the legal profession.