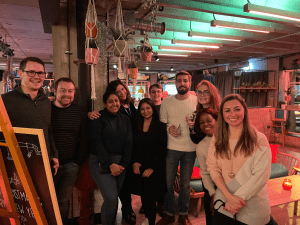 Martin's Internship With In-House Legal Solutions
Throughout the winter period, we took on Martin Garcia Filipe as part of the LJMU Discovery Internship programme. Martin joined us in the second year of his Law degree and made a valued contribution to the team.
The LJMU Discovery Internship programme aims to connect LJMU students with employers, providing students with the opportunity to discover their skills, talents and future prospects, whilst employers discover the value of taking on an intern in their business.
Martin joined In-House Legal Solutions in November and was given the opportunity to work alongside senior and trainee solicitors and paralegals. Throughout his internship, Martin was responsible for reviewing and drafting various legal documents and collating data on turnaround times to be sent to our clients. Martin received training on the importance of confidentiality in the legal profession and the complex legal arguments behind the drafting points in the legal documents he was working on. While also representing the company at networking events.
Looking back on his time with us, Martin said, "The culture and social environment at In-House Legal Solutions was extremely welcoming, from day one. This provided the ideal conditions for me to ask all sorts of questions and learn directly from 'hands-on' legal practitioners. The constant and close mentoring I received from my supervisors made this internship so valuable, as they ensured I was occupied with relevant tasks that would develop my legal knowledge skills."
We thoroughly enjoyed having in our team for a few months and wish him all the best for the future!