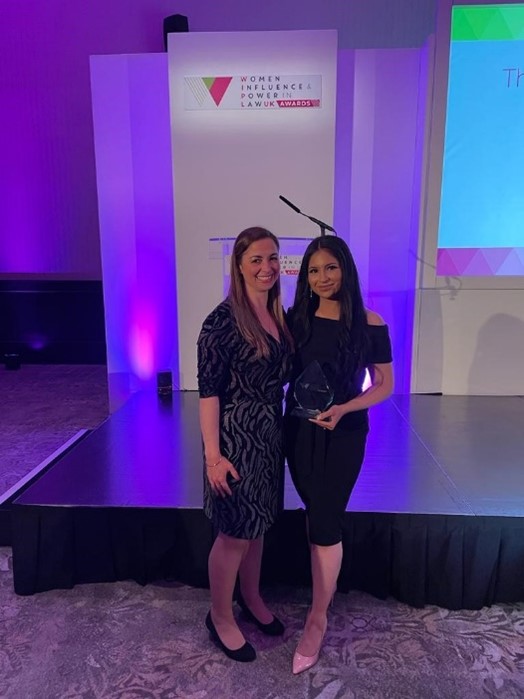 It has been a very exciting week for the team at In-House Legal Solutions.
Lauren and Shivani were both nominated for awards at the Women, Influence & Power in Law Awards 2022 ("WIPL"). Shivani was honoured to win her award for Rising Star in Diversity and Inclusion and Lauren was nominated for the Innovative Leaders Award. An incredible achievement for both!
The WIPL Awards are annual awards that honour top female lawyers who have made a remarkable difference in the legal profession this past year – whether by shaping the law, achieving exceptional results for their clients, or their devotion to advancing positive change within the legal sector (to name but a few).
Shivani joined the team in 2019 as a Paralegal and started her training contract with IHLS last year. Alongside her legal work, Shivani has been integral in shaping a progressive culture within the firm, promoting diversity and inclusion, and playing a key role in advocating social change within the legal profession. Shivani was the first ever Paralegal to be invited to be an elected observer in the Law Society's Diversity and Inclusion Committee and was recognised by the committee as an individual who holds expertise in this area.
Shivani was also central in arranging a key partnership between IHLS and The QPOC Project a professional, social, and educational-based organisation which creates inclusive spaces and community for queer people of colour. Last but not least, Shivani is a Mental Health Champion at IHLS and has helped to implement the mental health and wellbeing policy at IHLS, evidencing her drive for social change within the industry.
In-House Legal Solutions prides itself on hiring outstanding women and it is amazing to see that the impact that they are making is being recognised on a national level.
In-House Legal Solutions can help you to ensure that your business needs are met. For more information or to discuss this further, please contact [email protected]