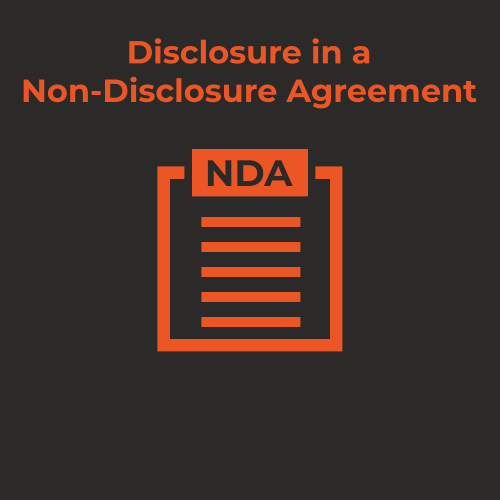 Disclosure in a Non-Disclosure Agreement
We comment on the importance of disclosure parameters in a non-disclosure agreement, including identifying permitted disclosees, liability for breaches and forced disclosure scenarios in this Part 2 of the In-House Legal Solutions NDA Guidance Note Series.
Despite what the name suggests, it is of critical importance to ensure that a non-disclosure agreement affords the recipient of confidential information the ability to disclose information; this is particularly important when the recipient company is part of a larger group of companies and information may need to be shared among affiliates, directors and employees (to name but a few) in relation to the subject matter of the information, such as a particular deal or transaction which may require input from a number of associated representatives. Onward disclosure to external representatives may also be needed. This naturally raises the question as to how far down the chain disclosure should be allowed to go and that needs to be carefully drafted to ensure that a) the recipient can permit its representatives to disclose to their own representatives, if required and b) the disclosor still retains control over where its information is ending up.
The disclosing party will naturally want to impose tight restrictions on the recipient's ability to onward disclose however, in order to narrow the disclosee pool and protect its information as much as possible, so this is often an area of contention in an NDA. Depending on the nature of the recipient's business, disclosure to debt and equity providers, consortium partners or co-investors may also be required, but this is likely to lead to consent and notification requirements (as opposed to freedom to disclose) prior to disclosure in respect of such entities, which will need to be considered.
It is also commonplace to see clauses associated with representatives, such as a recipient's liability for its representatives' breaches, as well as notification and procuring their compliance with the NDA. These points all require careful consideration. Some are market standard positions and others will require negotiation.
Often a disclosor will include wording requiring representatives to sign back-to-back agreements or direct NDAs with the disclosor prior to receiving the confidential information. Care must be taken here; recipients may wish to resist such wording (which is not always plainly clear) so as to not inadvertently commit representatives to such terms. Often however, a disclosor will insist on this and it will again be a matter of negotiation and commercial judgment.
As a recipient you will need to ensure that the NDA gives you the option to disclose without the disclosor's consent for circumstances outside of your control and that are forced upon you, without finding yourself in breach of the terms of the NDA. The most common reasons include law and regulation. A disclosor will want to be notified of such disclosure and may ask that the recipient complies with their directions or requests in relation to the disclosure, but it is important to consider how this should be drafted in the NDA as a recipient may simply not be able to do that, depending on the reason for the forced disclosure. The NDA should work to adequately protect the recipient in forced disclosure situations. Steps should be taken to avoid the recipient having overly onerous obligations (no more than taking reasonable efforts), initiating any legal proceedings or incurring any costs.
Disclosure terms are a key part of an NDA and will ultimately dictate what a recipient can and can't do with the information it receives. Balancing the needs of both parties is a commercial contract given but it is particularly important in an NDA. A holistic approach needs to be adopted whereby the NDA should be read with the context of the underlying deal or transaction in mind to understand who will need access to the information and when. In-House Legal Solutions are experts in negotiating such terms, and can identify those positions that are reasonable and market standard positions from those that are off-market and need to be negotiated, as always in an efficient and commercially pragmatic manner.
In-House Legal Solutions can help you to ensure that your business needs are adequately protected when negotiating NDAs. For more information or to discuss this further, please contact [email protected].