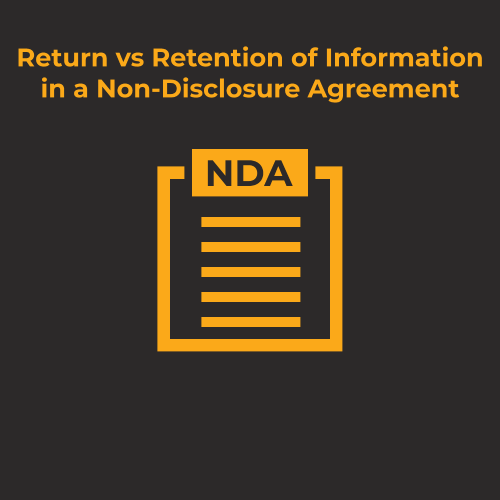 Return vs Retention of Information in a Non-Disclosure Agreement
We comment on the distinction and implications of returning versus retention of confidential information in a non-disclosure agreement ("NDA"), in this part 3 of the In-House Legal Solutions NDA Guidance Note Series.
Despite return and retention wording being commonplace in an NDA, care should be taken to ensure that it does not contain overly onerous administrative obligations on the receiving party (or its representatives) whilst also guaranteeing, from a disclosing party's point of view, that their confidential information will not fall into the wrong hands later on down the line.
It is often a good idea for return or destroy obligations to be at the receiving party's option so that they can elect during the course of running their own business how best to end their relationship with the information, i.e. they can either return it to the proprietor of the information, or if this is not practical, they can choose to destroy (or delete) it if the information takes electronic form. This may or may not be as a result of a written or oral request from the proprietor, or perhaps at the point of a subjective event, such as one party no longer pursuing the transaction or no longer having the need for the information. However, the overriding consideration here is that it is important for parties to know exactly when their obligations are triggered and come to an end.
Consideration should also be given to derivative information in this return and destroy context (i.e. information created by the recipient that may use or refer to information from the disclosing party, such as board minutes or memos) and the extent to which derivative information should be returned or destroyed and how that is to be provided for in the NDA.
Occasionally the receiving party may be required to confirm in writing that they have destroyed the information and by whom the certification must come from. This may need to be qualified by awareness (to the extent that the receiving party needs to procure that its representatives comply with such clauses).
There should also be provision in the NDA for the receiving party to retain information in certain circumstances, such as for reasons required by law, rule, regulation or where requested by a governmental or regulatory body, for example. The receiving party may also need to retain information for audit or document retention requirements and thought should be given as to whether information stored electronically for back-up purposes should be retained. The length of time that this retained information should remain subject to the NDA will need to be confirmed in the NDA. A receiving party may want to be aware of indefinite confidentiality obligations in respect of retained information and may want to consider imposing a time limit. If retention rights are absent from an NDA, a receiving party may find themselves inadvertently in breach of their internal company document retention policies or may not be able to comply with requests from higher authorities.
In-House Legal Solutions can help you to ensure that your business needs are adequately protected when negotiating NDAs. For more information or to discuss this further, please contact [email protected].