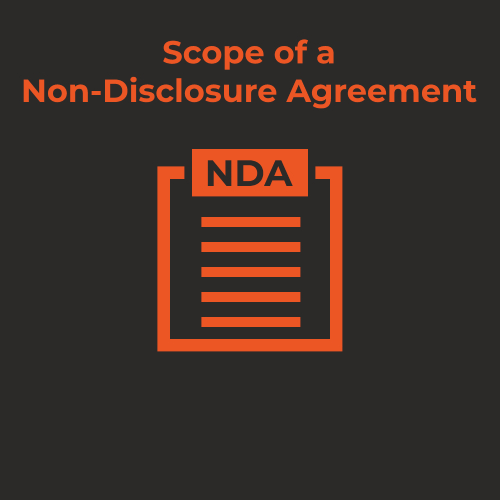 Scope of a Non-Disclosure Agreement
We highlight and comment on the importance and scope of a non-disclosure agreement in this Part 1 of the In-House Legal Solutions NDA Guidance Note Series.
Having the freedom to engage in commercial discussion whilst protecting the confidential information of a business is paramount to its overall success and there is no better way to do this safely than by way of a carefully drafted non-disclosure agreement ("NDA"). These agreements do not have to be complex to ensure the confidentiality of information and provide a platform of trust between contracting parties, however do not be fooled; they do have to be properly tailored to your specific needs and a 'one size fits all' approach may leave your business falling short of the protection it requires.
Determining what constitutes "Confidential Information" and the parameters of what an NDA covers has a crucial role to play. It is advisable to ensure that the NDA only covers information relating to a specific purpose, e.g. the deal or transaction that you are evaluating, to avoid discussions outside of that purpose being inadvertently caught and obligations on the parties extending far wider than intended.
Some information should fall outside the scope of confidential information however, and there are several carve outs which are deemed market standard to look out for in NDAs. These include the likes of information that is already in the public domain, or is already lawfully known or available to the recipient or any of its representatives on a non-confidential basis and also information that is independently developed. Having carve outs present ensures that you are protecting yourself and your business to the best possible extent when agreeing the scope of an NDA.
It is not only important for the information that exchanges hands to be correctly classified as 'confidential' but care must be taken around ownership rights and specifically documents or materials created by the recipient that may use or refer to information from the disclosing party (known as derivative information). The question arises as to what extent derivative information should be considered confidential. Often the disclosing party will want to maintain control over their information and some NDAs may go further so as to expressly include ownership and proprietary rights over those materials containing their proprietary information. The disclosing party will usually also want derivative information to be classified as "confidential" however a recipient should be wary of this; care should be taken to clearly state that such materials only fall into the category of confidential information to the extent that they contain or reflect confidential information. This is particularly important when dealing with company memos, notes or board minutes for example, as you may find yourself inadvertently signing up your company board minutes to fall under the ownership of the disclosing party – and the obligation to destroy them upon a request being received from the disclosing party to return and destroy their information.
These are just a few of the key points to consider when you are first presented with an NDA; they form the basis of and underpin the entire contractual agreement so must be carefully drafted to ensure ultimate protection.
In-House Legal Solutions can help you to ensure that your business needs are adequately protected when negotiating NDAs. For more information or to discuss this further, please contact us on [email protected].